Going to Watch your Team Play? Here's Why You Should Take Your Fancard
The COVID-19 pandemic put all of our beloved sports on hold for a while, but they are coming back! That also means fans are slowly but surely being allowed back in stadiums, especially with college football getting underway this fall.
One of the biggest changes to everyday life in the wake of the pandemic is how we pay. Many consumers and fans across the country have, in large part, stopped using cash. In addition, more and more retailers have begun offering contactless payments as a safer way to pay.
Nevertheless, contactless payment is something you will need to be ready for at the game, with an ever increasing number of venues going cash-less. That means you can no longer pay cash for snacks, drinks, apparel, and more.
That's where your Fancard comes in.
With your Fancard, you can pay two different ways in-stadium:
1) Swiping your Fancard
2) Utilizing contactless payments with Apple Pay® and Google Pay®
Plus, your Fancard gives you the ultimate flexibility to transfer money to other Fancards as well. Need to send some money to your child's Fancard sub-card? You can do it in seconds. Want to pay your buddy back for the popcorn he just got you at the concession stand? Fancard-to-Fancard transfers take place in mere moments.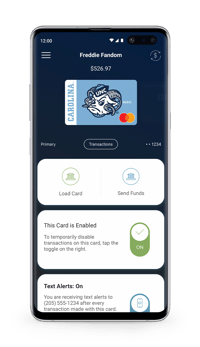 Didn't load your Fancard before you got to the game or watch party? No problem! Click here to learn how you can unlock instant transfers from your linked bank or credit union account in your Fancards Mobile App.
So when you go watch your team play, whether in-person or at your favorite watering hole, don't forget your Fancard. Take advantage of contactless payments, leave the cash behind, and show off your team too.
Apple Pay is a trademark of Apple Inc., registered in the U.S. and other countries.
Google Pay is a trademark of Google LLC.