If you are looking for the perfect gift card to give the college sports fan in your life, we have rolled out an all new and improved retail locator map to help you streamline your next shopping trip. With more than 25 teams available in nearly 20,000 retail locations nationwide, now you have a literal roadmap to giving the gift of college sports fandom. And, Fancard Gift Cards are available in a host of major retailers like Walmart, Dollar General, Kroger, and many more, you're hopefully never far away from your local Fancard Gift Card location.
Check out the map below:
Enter you location (ie - street adress, zip code, etc.)
Choose the card/location nearest you
Lastly, choose Directions for the quickest routes to get there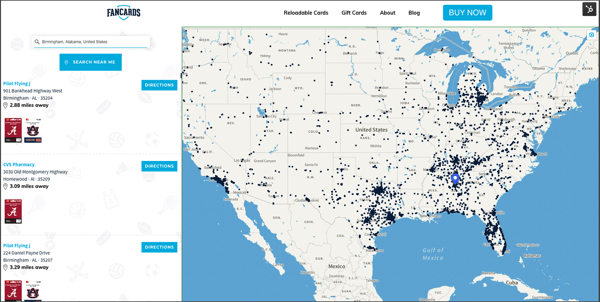 It's that easy! And if the team you're looking for isn't available in a location convenient for you, don't worry. You can order any team's physical or digital Fancard Gift Card at myFancard.com.
Plus, there is always another holiday, birthday or other special occasion on the horizon, right? As if you need more reasons to make your next gift a Fancard, we have you covered here: Five reasons a Gift Card makes occasions special.
New teams and retail locations are added regularly, so keep checking back to see what's new in your area. We also continue to develop new features for the map to help you find your and your loved ones' favorite teams.
Don't see a Fancard Gift Card in a retail location you found on our map? Let us know by emailing team@myfancard.com and we'll make sure more Fancard Gift Cards get sent to that spot!