Vidgo, a cost-efficient way to watch college football this fall
Have you joined the growing wave of cord-cutting in the United States? Well, if you have, you're in good company with an estimated 20% of all households relying on streaming over traditional cable and satellite TV packages. If you're still on the fence and considering the switch to streaming, you are probably overwhelmed with the number of options. Or maybe all you want is the most sports offerings for the best possible price.
Well sports fans, we have one more for you to consider -- Vidgo.
Vidgo is one of the newest entries into the world of streaming, offering packages starting at $40 per
month. It is the only subscription streaming provider to include the entire suite of Disney Media Networks including ABC, ESPN, Disney Channel, Freeform, FX and National Geographic and the entire FOX lineup in its basic package, at no additional cost. Unmatched by any service, Vidgo also includes access to the ACC Network, Longhorn Network, Big 10 Network, SEC Network. Pac-12 Network and FOX Sports 1 and 2 in its base package.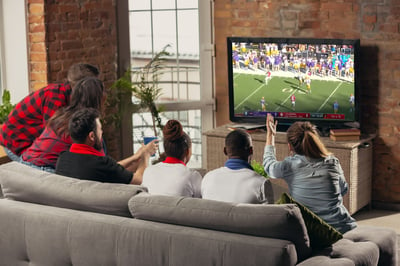 On top of a competitive channel offering, Vidgo is always working to improve its user interface and features. Just in time for NFL and college football season, the company launched the Timeshift, Playback
and TV Everywhere features. Timeshift allows users to rewind, pause, or skip back to the start of live sporting events or television programs if you join late or get interrupted. In addition to Timeshift, Playback lets customers watch shows that aired within the past 24 hours without the need of a DVR.
TV Everywhere, powered by Adobe, enables customers to access hundreds of hours of additional content, movies and shows from the likes of ESPN, Disney, ABC, FOX, NFL Network and many more. Vidgo also offers customers access to hard to find ESPN3 sporting events.
And if you're still wondering about the price, Vidgo is currently offering a three-day free trial, and the first three months are on sale for $40 per month for the first 90-days, marked down from the normal $45 rate, and $50 for the Premium lineup (normally $55). But don't just take our word for it. According to MyBundle.TV, the Vidgo Premium package at full price costs as much, or less, than the core package from the big three of YouTubeTV, Hulu Live and Fubo TV.
And if you need or want Spanish language channels, Vidgo also has you covered with offerings starting at $15/month.
Vidgo is supported on many platforms, including Roku, Amazon Fire TV, Sling and a host of web browsers, or on its own convenient mobile app. The app is available on both the Apple App Store and Google Play Store so you can watch your favorite programs and events on the go. However, broadcast network affiliate access varies by region, so be sure to check local listings or contact Vidgo Customer Support to confirm local channel availability.
Get started with your free trial TODAY by signing up through our affiliate offer HERE>>.
*This is an advertisement and optional offer from a Fancard partner. This optional offer is not a Sunrise Banks product or service, nor does Sunrise Banks endorse this offer.