Nobody intends to lose their wallet, or misplace their Fancard, but in the hustle and bustle of everyday life, it happens. We get it.
That's why our team at Fancards created the Fancard Freeze!
Now you may be wondering, what is that? Great question. The Fancard Freeze is an on-and-off switch in the Fancards Mobile App that allows you to temporarily disable your Fancard with a simple tap on your phone.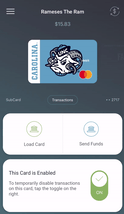 The Fancard Freeze is a convenient solution to gain peace of mind anytime you think you've misplaced your Fancard, or worse, had it stolen. Simply open the Fancards Mobile App, toggle the switch off, and we'll make sure no other purchases are authorized if someone else tries to swipe or use your Fancard.
Pro tip: Even when your Fancard is frozen, you can still use your digital Fancard in your Apple Wallet to securely pay with your iPhone or Apple Watch!
If you happen to recover your Fancard? Simply switch your Fancard back on, and you're good to go!
If you lost your physical Fancard, you can request a new one by simply logging into your Fancards account online and clicking the "Reissue Card" button. Or, just reach out to us at help@myfancard.com and we'll be happy to begin the reissuing process.

So next time you can't find your Fancard, don't worry. Just use the Fancard Freeze, and protect the funds in your account in seconds.
The Fancard Freeze is just one of several convenient safety and security features that comes with the card. Your Fancard also gives you access to ID Theft Protection™ by Mastercard for an added layer of digital security and privacy, and tools to fix any problems you encounter.