Here's how your family of fans can budget with your Fancard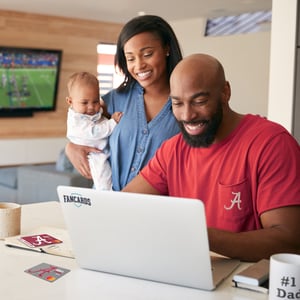 Keeping your family on a budget is a task that feels impossible even at the best of times. Whether it's questionable spending habits or unforeseen costs, it doesn't take much for the financial crunch to feel overwhelming. You want to be able to treat yourself and your loved ones, but you also need to pay all of your bills. If your fandom of college sports has brought you to our website, then we will hazard a guess to say that figuring out how to afford that awesome spread for your next college football watch party or the latest team gear is on your mind.
Well, we can help! Paying with your Fancard Prepaid Mastercard® makes every day a little more like gameday, but it can also be a useful tool to keep your family budget in order.
By using your Fancard, you're putting your cash to work and avoiding crippling interest charges that pile up over time. Here are some more tips and tools to help you.
Understand your expenses.
When was the last time you sat down and took a good look at your monthly spending? If it's been more than a few months, set aside some time to look at your bank and card statements and see where your money is going every month. The key is to understand your situation and make sure your expenses are not exceeding your income regularly.
Register sub-cards on your Fancards account.
You can manage up to five sub-cards from the Fancards Mobile app, which can be utilized to tightly control your monthly budget. Many families choose to use them to dole out allowances to their kids, but they're also effective if you want to consider an "envelope system" method for your spending.
Basically, if you've nailed down your monthly spending and set a hard limit on grocery purchases, for example, you could have one card only for groceries with a set amount loaded for the week.

Optimize spending.
Optimizing your budget means making your money work as efficiently as possible. For example, are all of your memberships and subscriptions worth the money you're investing in them? Or can you trim them back to make your budget more manageable.
Other areas to analyze for savings could include dining out, or reducing online shopping. We are going to really dive into this as its own topic in the future, but really challenge yourself on where you can cut back so you can afford the things you really need and want.
Plan ahead for special occasions.
The easiest spending trap many of us fall into is when it comes to holidays, birthdays and special occasions. We are all guilty. Even when you know those dates are coming, we all put it off until it's too late and end up overspending on gifts. A good idea is to keep a list of everyone you know you will need to buy for throughout the year.

Now, we also recommend keeping this list very private for obvious reasons, but consider how much you feel is appropriate to spend on them, then be on the lookout for sales and promotions that may help you stretch your gift-giving over the year.

P.S. - Fancards also offers gift cards featuring your favorite college teams if you want to let your loved ones choose their own gift!
That's just the tip of the iceberg when it comes to keeping your family on a budget. If there are other great tips or smart ways to use your Fancard Prepaid Mastercard account, let us know on Twitter, Facebook or Instagram.