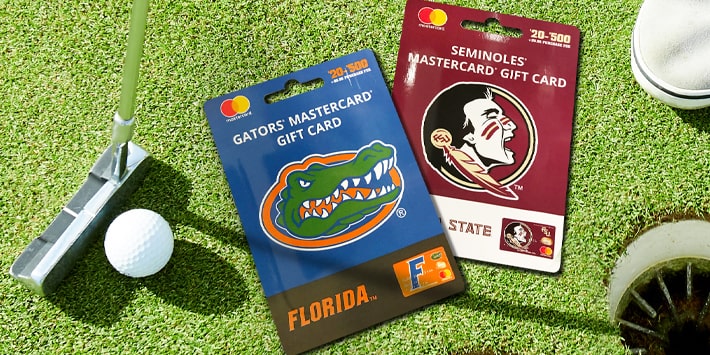 If social media is any indicator, once a dad hits age-30, they tend to get really into a hobby or activity. We don't mean like, "oh, he likes working in the yard," but more like, "dad's entire identity is the lawn having stripes like a golf course."
There might be a clinical explanation for this phenomenon, but as much as you think it makes Father's Day shopping simple, it doesn't. If your dad, or father-in-law, or other fathers in your life fall into this category, then let us ease your burden.
He doesn't want more socks or novelty mugs. Get Dad a Fancard Mastercard®️ Gift Card. Basically, you gift him his favorite college team, and he can get what he REALLY wants!
If the dad you're shopping for is a college sports fan, then getting him a Fancard is a slam-dunk. He'll be able to get the specific things he wants and probably keep the card as a keepsake because he loved the card art so much.
That said, if your dad has passions beyond college sports, we're going to go over a few "dad identities" we have observed (or fall into ourselves) to show you why a gift card just makes sense.
Master-Grill-Chef -- This dad treats the grill like a temple, and he's honor-bound to feed his family. He's probably saving up for a better grill and/or some pricey smoker, so put the power in his hands to make the right purchase.
Weekend MVP -- This dad doesn't just love sports; he's going to prove his mettle by dominating his friends on the golf course, tennis court, softball field, or wherever else he can play to win. He's always going to need new gear, and it's better if he picks it out himself.
Home-Brew Guy -- Believe it or not, these dads are still out there. If your dad fits into this, even if you think it's a silly hobby and you're always "allergic" to hops whenever he wants you to try what he made, it still makes him happy.


The Tinkerer -- So your dad builds and operates RC cars and airplanes, or rockets, or perhaps just builds model kits. Materials at the local hobby shop can get very pricey, and there is always some newer, more expensive thing he's going to need. Help fund his replacement parts, upgrades, and anything else that helps feed his borderline obsessive-compulsive activity.


Mr. Motor Trend -- Your dad hasn't missed a local auto-show in years, and one day, he's going to finish working on that old Chevy in the garage. He also probably tries very hard to hide how much he spent on parts and accessories, so that gift card will help him acquire the next mod without getting on the wrong side of mom.


"I'd Rather Be Boating" -- This dad doesn't boat as a hobby. It's a lifestyle. The week is just one long leadup to the next outing, but it's expensive to own a boat of any size. So help him make his next trip a little more awesome with a gift card to cover the fuel, beverages, or anything else he might need.

Super Collector -- Your dad collects pop culture merchandise, comic books, sports memorabilia, coins, or any number of other things. All he ever wants is more stuff for the collection or something to help display it better. That gift card goes a long way toward either.
In all honesty, there are near-infinite types of dads out there. Each has their unique sensibilities and quirks. Whatever the case may be, it's all part of what makes him Dad. Now he will have you to thank for getting the exact thing he needed.
So what are you waiting for? Get him a Fancard today.