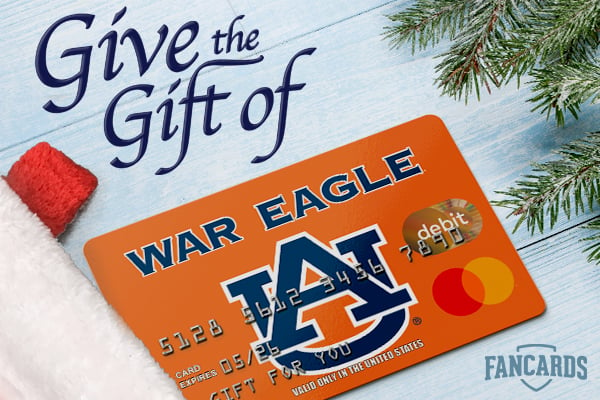 It's December, which means that it's time for your annual office holiday party and other small gatherings with family and friends. Although we can guess it will probably look and feel a little (or a lot) different in 2020 than before, it doesn't mean you can't make those occasions more festive for yourself and the college sports fans in your life. So this year, consider adding Fancard Mastercard®️ Gift Cards to your reindeer games.
Now you may be thinking, "Well it's just a gift card, how exciting can that be?" Rest assured, with the right party games, especially when there is a prize involved, you can create a ton of fun. Below are three great competitive games that are fun for the whole family.
First, you'll need some Gift Cards, which you can now buy online in our brand new Fancards shop!
Now for the games...
1. Target Practice
This game is perfect if you have a sportier, competitive group. Buy a handful of gift cards, and to raise the stakes, vary the funds on each card. Then you attach the cards to the wall, bulletin board, garage door… virtually anywhere inside or outside. Everyone takes turns shooting foam darts at them. Hit the target, win a card! Now, if you really want to mix it up, get a set of those suction cup axes you can throw at the wall.


2. 'Better Than Goldfish' Game
Have you been to a fair or carnival and seen the game where you can toss a ball into a bowl to win a goldfish? Well, you can adapt that for your holiday gathering! Get some bowls, plastic cups, jars or whatever else you can find as targets, and some ping pong balls. Set your targets up on a table and place the gift cards underneath each of them. Everyone attending gets a shot to try and win! Want to make it a little more interesting? Make it a trick shot contest.

3. Pop Goes The Fancard
Now it's time to make some noise! You will need balloons, darts and a cork board. With a variety of gift cards (or just one higher value card and a bunch of random stuff), insert your prizes into the balloons. Just stretch the mouths of the balloons and carefully slide the items inside. Inflate them, attach to the cork board, and away you go! Stand as far away as you think is fair and turn everyone loose with the darts. This game is especially great for kids, but maybe not for your walls, so choose your location wisely.

Since this is the giving season, we'd love to see you having fun and showcasing creative uses for Gift Cards. If you use one of our game ideas, or another interesting take on holiday games, take a video of it and post it to social media. Tag @ufancards on Facebook, Instagram or Twitter and we may select your entry to send another gift card or two to add to your next game or for a stocking stuffer!

If you prefer to buy gift cards in-store, find the nearest one at thousands of retail locations around the country.