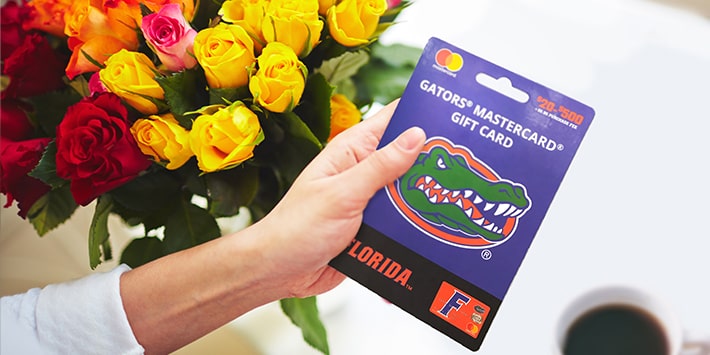 Let's face it. Some mothers love relaxing spa days. On the flip side, some moms love football Saturdays, and watching March Madness even more! If this describes your mother, or other moms in your life you want to celebrate, it (more-than-likely) means she is a serious college sports fan.
This Mother's Day, show her you care by giving her something that SHE really cares about. If you need some help in the gifting department, these five Mother's Day gift ideas are sure to score some points in any sports-loving mom's book. At the end, we even offer a sixth, add-on idea to make Mother's Day even more memorable!
Fancard Mastercard® Gift Card
Mamas love gift cards, so why not give mom the gift of choosing whatever she wants this Mother's Day?
Whether she is near or far, you can hand (or send) her a Fancard Mastercard Gift Card, personalized with her name and her favorite college team's logo. When picking out mom's Fancard gift card, choose from over 25 teams among the Big 10, Big 12, ACC, SEC, American, and more.
Fancards are available in thousands of retail stores, including select Kroger, Walmart, and Dollar General locations across the country. You can check here to see if a store near you offers Fancards in-store for purchase. And don't forget to buy mom a Mother's Day card as well. Place the gift card inside and tell her to treat herself.
---
Team Merchandise
What better way to treat mom than with merchandise from her favorite team?
A fantastic place to buy official sports gear is at Dick's Sporting Goods. Shop online, or in-store if there is a location near you. If you are looking to buy her something a little more "homey," Sports Unlimited offers tons of fan gear and items she will be sure to enjoy. The options are endless - from clothing to a spatula for moms who love baking, you can be sure to find something perfect for her online.
If you aren't sure what particular team merch to buy for her, a gift card for her to choose her own merchandise is a wonderful alternative as well.
---
Personalized Football or Basketball Necklace
Mom will love this personalized football necklace that is made to look antique and nostalgic. Made of gold-plated metal, so she can wear it solely on game days or any other day of the week she chooses.
Not sure what letter to include on the accompanying, engraved charm? Opt for her kids' initial or initials. If you would rather not use initials, the letter "M" is a perfect choice - representing "Mama, Mother, Mom, Mommy, and Mother's Day".
For the basketball-loving mama, this gold, engraved basketball necklace is sure to be a slam dunk for her jewelry box.
If the mom or mom-to-be in your life is more of a silver kind of gal, check Etsy for other basketball or football-themed jewelry options. No matter which you choose, mom will be thrilled to receive such a personal, wearable gift this year!
*Note* when ordering from Etsy, make sure you check creation and shipping times to assure your Mother's Day gift arrives on time.
---
Mom Team Shirt
Instead of buying mom a boring shirt, or a plain tee that says "world's best mom" (that she will probably only wear at home,) get her something a bit more thoughtful.
These official team, mom shirts allow mom to represent her favorite college or professional team while she can also rep being a mom. Score!
Since a great shirt is a wardrobe staple, she can wear this wherever she wants. It is perfect to wear to football games, the couch - while watching her favorite team win, her desk - if she is still working from home, to nap (because mom's need naps on Mother's Day!), or even on vacation!
---
A Ticket to (Nearly) Every Event
If your mom is anything like ours on Team Fancards, she may plan her whole day around not missing a game. If that's the case, then consider gifting her an ESPN+ subscription! The worldwide leader in sports' streaming service provides hundreds of live events across virtually every sport, ESPN originals, and exclusive ESPN studio programs. Get started today with ESPN+, HERE.
---
No matter what you decide to give as a Mother's Day gift this year, don't forget to verbally tell the mom in your life how much she is appreciated, on Mother's Day and every day. If you are rooting for a different team than she is, maybe cut her some slack this week. (That means no my team is better than your team banter for just a few days. Tough, we know.)
In the end, whether you opt for sports-themed experience or item, she will be sure to love and appreciate her gift regardless.