BIRMINGHAM, ALA. - With football season just getting underway, University Fancards has announced the Louisiana State University Tigers as its latest partner. LSU fans will soon be able to order an LSU Fancard Prepaid Mastercard® and LSU Mastercard Gift Card and pay with pride everywhere Debit Mastercard is accepted.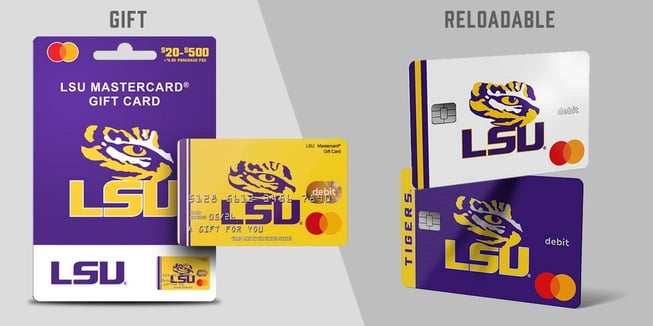 "LSU has one of the biggest bodies of alumni and fans in the nation, so we are very excited to partner with the Tigers," remarked Lynn Boggs, CEO, University Fancards. "When it comes to fandom, the Tigers faithful are legendary, and the athletic program has one of the richest histories in all of college sports. Whether it's an away game in Gainesville or a gymnastics meet in Los Angeles, there will be a sea of purple and gold in the stands, so we're happy to give their fans both a gift card and reloadable card as another way to show their team pride."
Bayou Bengals fans can sign up to pre-register for the LSU Fancard Prepaid Mastercard at myFancard.com. Once the card is fully launched, fans may sign up or manage their account through the Fancard Mobile app on the Apple® App Store® or Google Play® Store.
The Tigers Mastercard Gift Card will be available to purchase online and in stores over the coming months. Stay tuned to Fancards social media for updates on the availability of Tigers gift cards.
With the addition of LSU, Fancards is now partnered with nine of the current members of the Southeastern Conference.