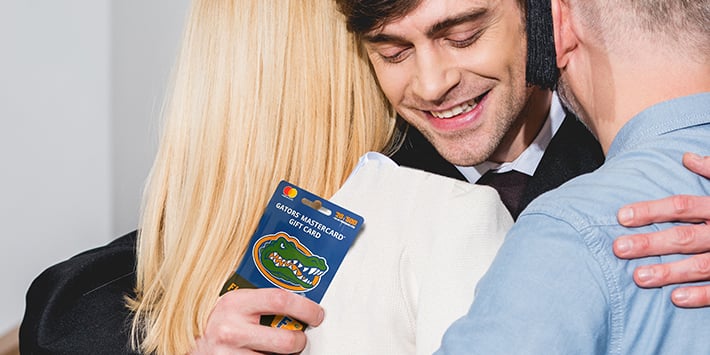 Spring graduation season is among us. In true 2021 fashion, the commencement types and scenarios are all over the map. Ceremonies include live graduations scheduled, as well as online and drive-through events, depending on the school or university being attended. If you need a gift, quick, then we got you covered. Just follow the link below!
If you need some reasoning on WHY the gift card is the perfect gift, then keep reading.
The Perfect Gift For a Grad
No matter what the location situation, one thing is for certain. Graduation gifts are still top of mind to those with grads in their lives. So, whether nearby and delivering in person, or mailing a gift to the graduate in your life from afar, make sure you give them the perfect gift. The gift of something thoughtful that they will love -something that is simultaneously useful, helpful, and worthwhile.
But, does this gift actually exist? We sure believe it does; a Fancard Mastercard®️ Gift Card!
If your graduate is a passionate college sports fan, or attending one of Fancards' more-than-25 partner Universities, it's a real bonus to give them a gift adorned with their favorite team. Even if they aren't super-passionate about sports, that's okay! Maybe you are. Perhaps they're attending a school you don't particularly care for, and you want to remind them who is really number one. Fancards make gifting fun.
---
It Never Disappoints
Do you know what nobody ever has enough of? Funds. Do you know who is especially lean on funds for everyday needs and wants, and could use more anywhere they can get it? That's right - graduates headed to the next chapter of life. Whether it's middle-school to high school, high school to college, or college into the crushing abyss of economic reality the job market, and adulthood, they're going to need (or really want) a little help.
That's where you come in to make life a little brighter, with that shiny, colorful gift card that's brimming with team pride.
Bonus idea: Whoever is your favorite coach or player from your favorite team, write in an inspirational quote from them to the grad. I mean, how cool would it be if you're a 21-year-old Crimson Tide fan, and Uncle Buck gave you a card with an Alabama Gift Card in it and a note that just said, "Like Coach Saban said, "Focus on the process of what it takes to be successful!" You're never going to rush the field, because no Bama fan would ever do that, but you'd be amped up for sure. Or maybe you're an Auburn fan, and Uncle Buck hit you with the Charles Barkley wisdom of "The only difference between a good shot and a bad shot is if it goes in or not." In this case, you'd think it is a really deep and profound message that you haven't decoded yet, and Uncle Buck is a messenger from the future. #winning
---
Good for Just About Anything
Fancard Gift Cards can be used everywhere Mastercard is accepted, in stores or online. So just about anything your graduate might need to purchase can be acquired by using the card. Gas, groceries, online gaming, clothes… it's up to them, but you can help make their wants and needs into reality!
So what are you waiting for? Find the perfect card for your graduate today.