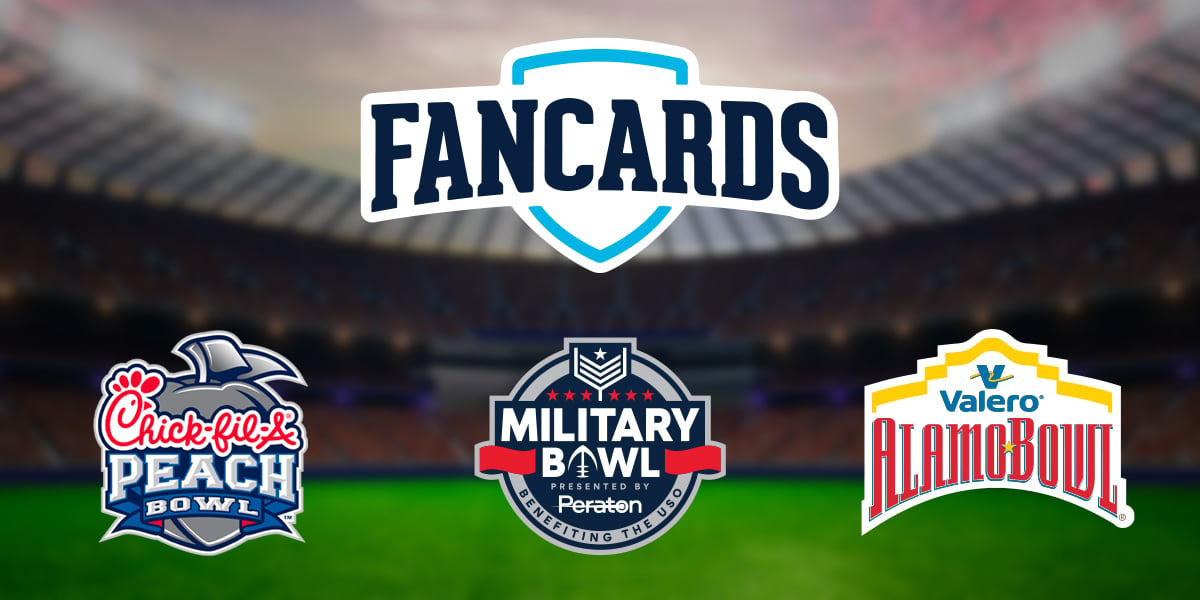 University Fancards LLC, has expanded its presence in college football bowl games, and will provide custom Mastercard® Gift Cards to two additional bowl games in 2021 with the Valero Alamo Bowl and Military Bowl presented by Peraton. They join the Chick-fil-A Peach Bowl, where Fancards will provide gift cards for a fourth consecutive year.
"We are proud of the work we have done with the Chick-fil-A Peach Bowl, and are excited to now provide gift cards to the Military and Alamo Bowls this year as well," said Lynn Boggs, Co-Founder and CEO, University Fancards. "Bowl games provide tremendous exposure for everyone involved, from the host city to the players on the field, so we are thrilled to provide the games with a customizable, turnkey way to extend their brand and support their teams."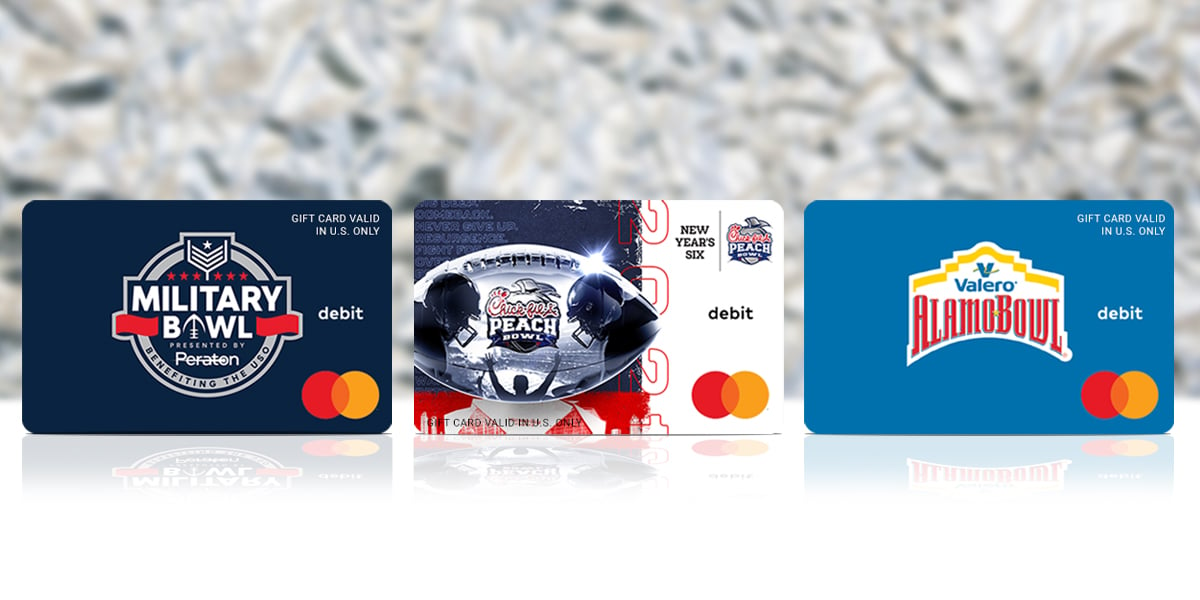 Custom Fancard Mastercard Gift Cards for the (from L to R) MIlitary Bowl, Peach Bowl, and Alamo Bowl
The Chick-fil-A Peach Bowl will be played in Atlanta on Dec. 31 at 7 pm EST, and features the No. 12 ranked Pitt Panthers taking on the No. 10 Michigan State Spartans. Players will receive a $400 Mastercard Gift Card from Fancards.
The Valero Alamo Bowl will host a potentially high-scoring affair in San Antonio, Texas on Dec. 29 at 9:15 pm EST when the No. 14 Oregon Ducks squares off against the No. 16 Oklahoma Sooners. Players will each receive a personalized $490 Gift Mastercard from Fancards.
The Military Bowl presented by Peraton gets underway on Dec 27 at 2:30 pm EST in Annapolis, Md., featuring the East Carolina Pirates and Boston College Eagles, and those players will each receive a $350 Gift Mastercard from Fancards.
The gift cards can be used physically or virtually. Once activated, recipients are able to add their cards to a digital wallet via Apple Pay® or Google Pay®. The gift cards may be used everywhere Mastercard is accepted.
Providing Mastercard Gift Cards for the Peach, Alamo, and Military Bowls is the latest development for Fancards in 2021. The Birmingham, Ala. based company has continued to aggressively add to its roster of teams for its Fancard Prepaid Mastercard and Fancard Gift Mastercard products. Most recently, the LSU Tigers and BYU Cougars were added to the Fancards lineup of 30 teams, that also includes the likes of Alabama, Michigan, and more than 20 other Bowl-bound teams.