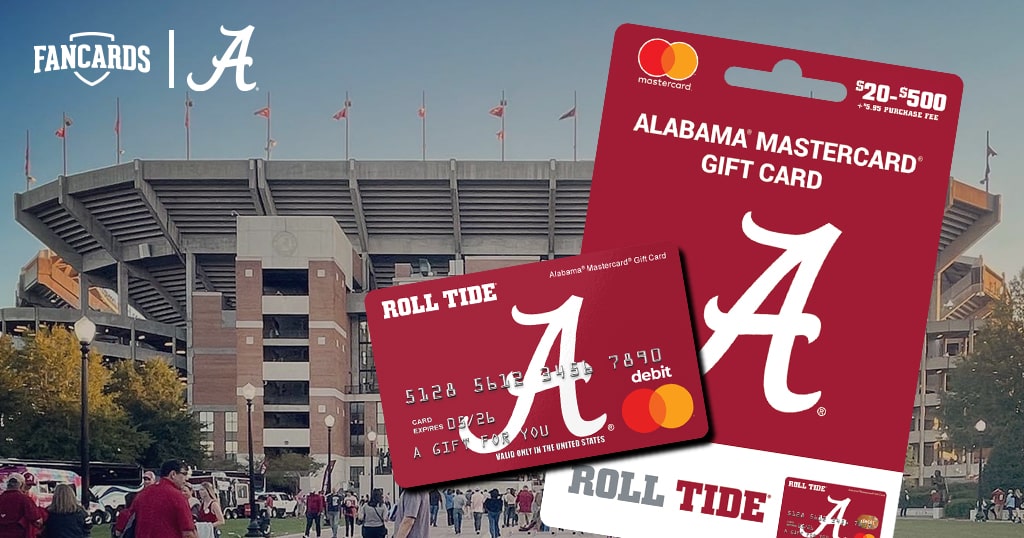 University Fancards, LLC has announced that its officially licensed Alabama Mastercard® Gift Card will be sold at the home of Crimson Tide football, Bryant-Denny Stadium, starting this fall. Gift card sales at the stadium are part of Alabama's ongoing efforts to go cashless at sporting events.
This year, all points of sale at Alabama Athletics events for concessions and retail will be cashless. Beginning with the Tide's football home opener on Sept. 3, fans who bring cash to pay for concessions will be directed to designated kiosks to exchange for Fancards in $20 increments at two locations within Bryant-Denny Stadium.
Location 1 – Lower Level (1st Floor), Section AA (near Concession S126)
Location 2 – Upper Level (8th Floor), Section NN-8 (near Concession N804)
Fans who want to beat the lines on gameday may purchase Fancard gift cards from participating retailers around the state, including Walmart, Dollar General, CVS and more and load your card with $20 - $500 before heading to the game. The nearest retailer can be found by visiting the myFancard.com Gift Card page.
Fans who would like to use their cash and want a longer-term payment solution can sign up for the Alabama Fancard Prepaid Mastercard at myfancard.com. Fans can also sign up and manage their account through the Fancard Mobile app on the Apple® App Store® or Google Play® Store. Fancard reloadable cards are compatible with Apple Pay® or Google Pay®, and can be used everywhere Mastercard is accepted.
Fancards has been a proud partner of Crimson Tide Athletics since the company's founding in 2015. Since then, Fancards has worked with Crimson Tide Athletics to provide experiences for fans including game tickets, stadium tours, and other cardholder benefits.