ATLANTA, Jan. 10, 2018 /PRNewswire/ -- University Fancards LLC, home to the only gift cards for college sports fans, recently announced an agreement with InComm, a leading prepaid product and payments technology company, expanding its college-branded Mastercard® Gift Cards program to include 16 additional teams, now totaling 19 teams across 11 states. Mastercard Gift Cards are available nationwide and online. This agreement marks the expansion of the teams represented by University Fancards which started with Tennessee, Texas and Alabama.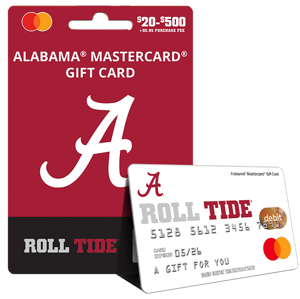 Cards are available at pharmacies, grocery stores, discount stores and convenience stores with designs that honor a variety of teams, including Michigan, Alabama and Florida State.
"Because the cards are open-loop, they can be redeemed wherever Debit Mastercard is accepted within the U.S., and they can be loaded with any amount from $20 to $500," said Matt Lanford, Senior Vice President and General Manager, Financial Services at InComm. "This makes University Fancards an attractive and convenient option for gifting or self-use for sports fans this year."
InComm and University Fancards have worked together for three years. InComm is the program manager responsible for the processing, distribution, activation at the point of sale and management of the website and customer care for University Fancards. Recently, InComm and University Fancards donated more than $17,000 to the University of Houston to assist their faculty, staff and students in their recovery efforts following Hurricane Harvey.
"As we work hard to bring more teams into the Fancard Family, it is crucial that we put just as much effort into bringing our products into more stores," said Greg Boggs, Executive Vice President of Operations at University Fancards. "By making sure our cards can be found easily, we are giving passionate fans the ability to proudly carry their team's card. That is where InComm played an important role, leveraging their expansive network to make our cards a convenient option for fans of any team in our family."
About University Fancards
University Fancards, founded in 2015 and headquartered in Birmingham, Alabama, is the leading provider of collegiately licensed gift cards and reloadable prepaid cards. Fancards has teamed up with some of the most prestigious brands in the country, including the Alabama Crimson Tide, Arizona Wildcats, Cal Golden Bears, Florida Gators, FSU Seminoles, Houston Cougars, Louisville Cardinals, Miami Hurricanes, Michigan Wolverines, Michigan State Spartans, Nebraska Cornhuskers, Ole Miss Rebels, Oregon State Beavers, Mississippi State Bulldogs, South Carolina Gamecocks, Tennessee Volunteers, Texas Longhorns, Texas A&M Aggies, West Virginia Mountaineers to create exciting prepaid products that let fans "Pay with Pride" everywhere they go. For more information, including Fancards' full list of teams and announcements featuring new schools being added to the Fancards family, visit UFancards.com.
Mastercard Gift Cards are issued by The Bancorp Bank pursuant to license by Mastercard International Incorporated. The Bancorp Bank; Member FDIC. Mastercard is a registered trademark, and the circles design is a trademark of Mastercard International Incorporated. Mastercard Gift Cards are distributed and serviced by InComm Financial Services, Inc., which is licensed as a Money Transmitter by the New York State Department of Financial Services. Cards may be used in the U.S. and District of Columbia everywhere Debit Mastercard is accepted. Terms and conditions apply. See Cardholder Agreement.
About InComm

Leveraging deep integrations into retailers' point-of-sale systems, InComm provides connectivity to a variety of service providers that allow consumers to conduct everyday business at more than 500,000 points of retail distribution. Whether those consumers are activating prepaid products, paying bills, enjoying real-time discounts through a membership card, purchasing digital goods in-store or adding funds to an online account, InComm is there to provide unique gift-gifting opportunities, cater to on-the-go shoppers, deliver added value through loyalty programs and serve cash-based consumers. With 246 global patents, InComm is headquartered in Atlanta with a presence in more than 30 countries. Learn more at www.incomm.com or connect with us on www.twitter.com/incomm, www.facebook.com/incomm,
www.linkedin.com/company/incomm or www.incomm.com/blog.