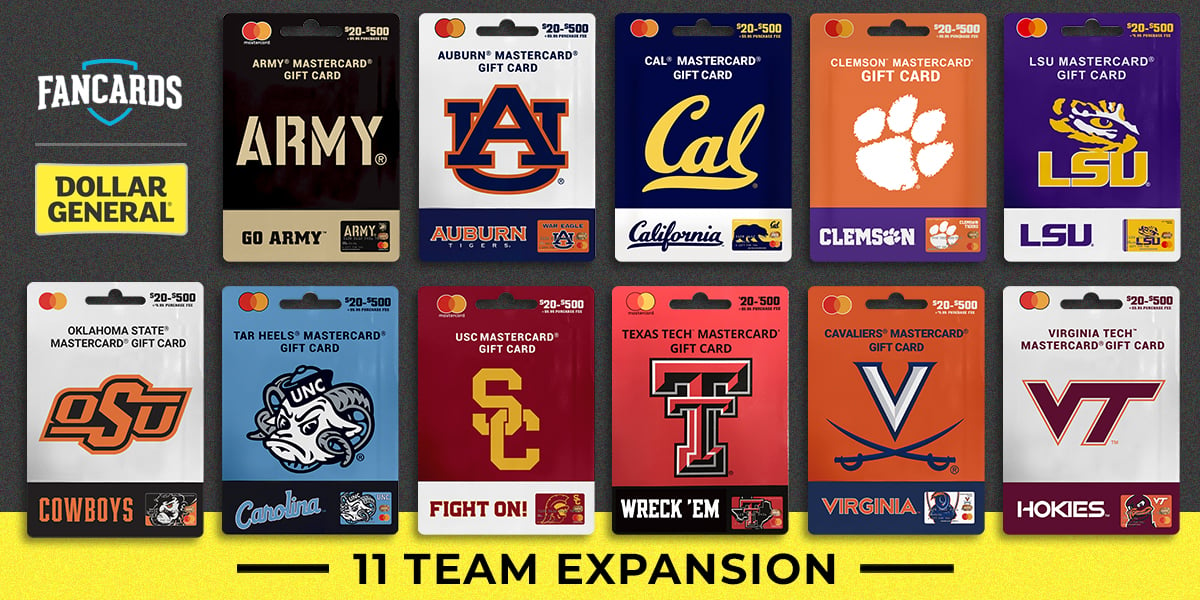 It's officially summer, and Fancard Mastercard® Gift Cards are in more stores than ever! Just in time for Father's Day, you can find your favorite team's gift cards in thousands more Dollar General stores across the country.
With the recent expansion, Dollar General now offers 11 additional Fancards teams: Army, Auburn, Cal, Clemson, LSU, Oklahoma State, Texas Tech, North Carolina, Southern Cal, Virginia, and Virginia Tech.
Fans who are used to buying their Fancards at Dollar General, never fear, your favorite team will still be there. The expansion brings the total of Fancards teams sold at DG up to 25.
Prior to the expansion, Fancards available at DG included Alabama, Arizona, Florida, Florida State, Louisville, Michigan, Michigan State, Mississippi State, Ole Miss, South Carolina, Tennessee, Texas, Texas A&M, and West Virginia.
Load your Fancards with $20 - $500 to share with friends, family, or anyone else you want! Fancards are also available in many other retailers nationwide, including Kroger, Target, Walmart, CVS, and more. The best part is that they can be used anywhere Mastercard is accepted, online or in stores so your gift recipients can get what they really want.
You can also purchase cards for any of our teams only at the Fancards online shop, found at the Gift section of MyFancard.com
If you are a business owner, Fancards also produces gift cards in bulk! When you purchase in bulk (minimum order of 10), you get big savings on your per-card purchase and can show appreciation to your customers, employees, and sponsors.
Notably, Fancards has also been making waves with college football bowl games in recent years. In 2022, The Chick-fil-A Peach Bowl, Cheez-It Bowl, Cheez-It Citrus Bowl, Military Bowl, Valero Alamo Bowl and Holiday Bowl provided nearly 1.800 participants with Fancards gift cards.
To get the full rundown on everywhere and every way you can purchase Fancards as gifts, visit our Gift Card page.